I've got a few upcoming appearances, speeches, panel moderations, etc to tell you about.
The Trader's Expo New York City, Feb 28 – March 2 
Trading Like a Hedge Fund Manager (with Robert Marcin and Brian Gallo)
Monday, March 02 | 8:00 am – 9:00 am
Why You Shouldn't Listen to Anybody When It Comes to Investing and Trading
Monday, March 02 | 1:45 pm – 2:45 pm
AND:
The MoneyShow Las Vegas, May 12 – 14
Avoiding Scams and Finding Winners When You Angel Invest
Wednesday, May 13 | 4:30 pm – 6:30 pm PST
The Trillion Dollar #SocialCapital Industry
Thursday, May 14 | 12:45 pm – 1:30 pm PST
Win $20,000 in cash & prizes in the new Scutify Hedge Fund Game. Manage a virtual portfolio and climb the rankings. Compete against other Scutifiers as well as our All-Stars like Cody Willard and Scott Rothbort.
Be sure to download the new Scutify Hedge Fund Manager app for iOS and Android. Search App or Play Store for Scutify or click here for iOS
http://goo.gl/4zvZLK
and here for Android:
http://goo.gl/jKtz0e
The Top 100 Trending Stocks in the past 24 hours on Scutify.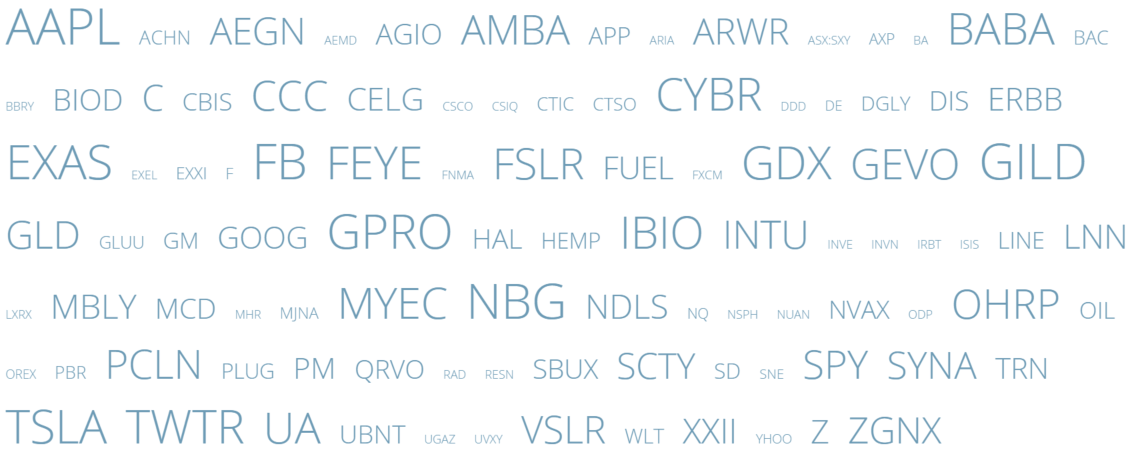 ---
Scutify

Trending 20 Index

Two changes to the Trending 20 Index with $SCTY and $AMBA rejoining the index.

Out goes $GOOG and $BTC. Check out the full list here. And if you want to know more about how the Trending 20 Index is calculated check out the FAQ page.

Have a great trading week from the team at

Scutify

.
Download the "

Scutify

Sentiment" App now for iOS orAndroid.