Axogen is up nearly 10% today to new all-time highs since we bought it. We own one microcap stock in our portfolio, an exception to the rule that I outlined when I first bought it and which you can read here:
"You guys know that I'm very leery about investing in penny stocks and/or stocks that came public through a reverse merger. So you can imagine how seriously I've taken my homework on researching this new pick that is indeed a small cap company that came public through a reverse merger and is practically a penny stock, trading at less than $5 a share.
Axogen AXGN is a biotech company that's pioneering a brand new way for surgeons to rebuild and reconnect and save nerves in all kinds of surgeries. My best friend from college from twenty years ago at UNM is nowadays a hand transplant and reconstructive surgeon in Baltimore and he's been using this company's nerve connect technology in nerve reconstruction  for patients where either the patient doesn't want the morbidity of having nerves from another part of their body harvested to reconstruct a nerve elsewhere, or they don't have enough nerve for him to harvest to reconstruct another nerve. My friend introduced me to this company when he was staying with me in NM recently and we were talking about his ground breaking work."
Microcap stocks can go wild when the daytraders start gambling on it and promoting it around the net and social media. Such is the case today with Axogen, as here's what you find on the Twitter Feed on Scutify's $AXGN quote page:
57m ago

BiotechSage – @BiotechSage
$AXGN looking to breakout
---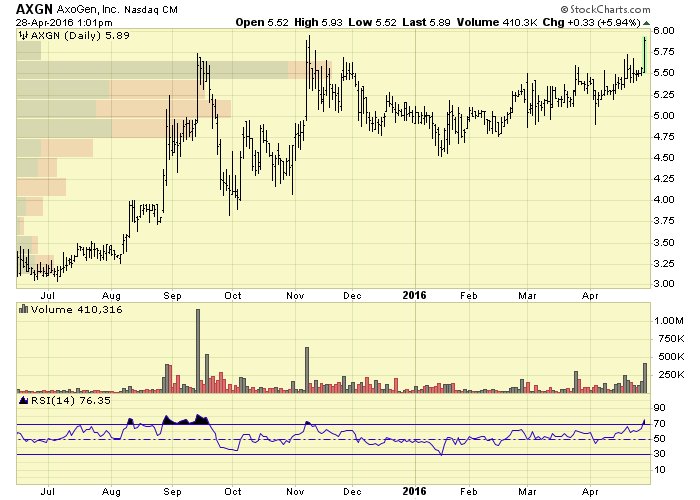 ---

2h ago

Sandman – @Sandman7591
$AXGN about to break out over 595
---
---

2h ago

Chess – @chessNwine
$AXGN Daily. With medical device plays hot & $STJ buyout, a Member noted this smaller play threatening breakout herehttps://t.co/gomrj5ZPIr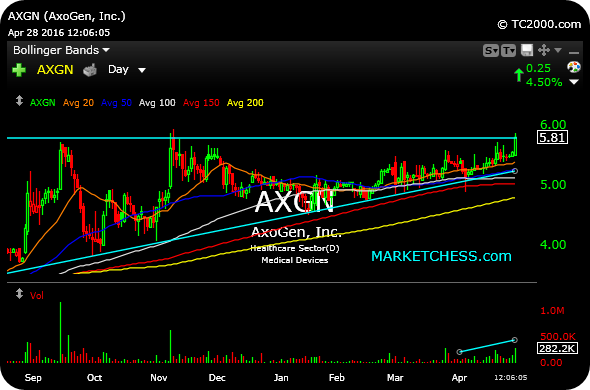 ——————–
And StockTwits Feed on Scutify's $AXGN quote page:
————-
So what does this mean for us as long term Axogen investors? Nothing really. I'm just holding my $AXGN shares steady, as it's still a smallish position for me and one I plan on riding to much larger returns if they succeed as a business or back down to low levels if they fail as a business. I wouldn't recommend having a huge portion of your stock portfolio in a small cap stock like this and I'm going to use this current momentum daytrading speculative M&A chatter move in the stock to remind you of that. If seeing this stock back at $3 or even $1 per share some day makes you sick to your stomach, then now is the time to trim a little of this name.
Again, I'm not selling my shares and if you're in this stock in a small way with the mindset of a venture capitalist, looking for a 10-bagger but willing to ride it to $0 if they fail, then you can just sort of watch this carnival develop and watch it as it escalates and then dies down. I wouldn't be shocked to see $AXGN stock possibly pop another 10-20% over the next few days and then come right back down towards $5 per share as the vast majority of the momentum daytraders end up taking their inevitable trading losses on it.
For what it's worth, I did mention when we bought it that this company could be a potential M&A target for a larger medical company, but I don't own it as a gamble on it being bought.
Just a friendly neighborhood reminder about proper risk management. Now I'm gonna go grab some popcorn and watch the show.