Before we jump into the transcript from this week's Live Q&A Chat, I'll just mention that it's not normal to buy a stock and have it go up 300% in three months. (TSLA) and (SPCE) are literally up 4x from their lows last year. You'll note below that I'm trimming more SPCE here today. Meanwhile, the markets continue to look past Covid-19, the coronavirus epidemic and CEOs like Barry Diller are wondering out loud if there is an outright pandemic already. China's economy is in free fall and while China itself might end up just fine in three or six months, I'm continuing to try to find derivative plays. For example, bilateral trade between Russia and China increased by around 4.5% in the first eight months of 2019, reaching $70 billion, with exports to China almost entirely responsible for the surge in activity Is Russia's export economy going to take a big hit if nobody in China is consuming things the way they usually do?
I'm open to ideas from other money managers on how to get some new hedges on and/or look for some long ideas that aren't direct plays on China.
Onto the transcript.
Q. If you had to enter the market now, what would be your 3 top stocks to buy?
A. I'd definitely suggest starting slowly right now, maybe putting only 10-20% of your money to work at a time, spread out over the next few weeks at least. As for specific names, I'll just look at my longs right quick and see what stands out — because some of them are up 20-30% in the last week and/or were up 5-10% yesterday and today. So let me look afresh at the list right now: Maybe the first 3 I'd look at would be: (DIS), (TSM), (TSLA), (WORK), (SEDG) and about 5 others. So I guess I'd say maybe you should consider starting with more than 3 names if you're not in the markets.
Q. I re-read your gold book recently and in it you stated a 5-15% allocation. Do you have anything to add about gold, percentages and hedging that would be applicable to the present. With inflated markets, even further dilution of currencies, both the worldwide potential complications of the virus as well as China's specific economic/governmental complications, plus the continual US government expansion which likely will give even fewer people even more control of a rigged system?
A. I'd probably cut that 5-15% suggestion for a gold allocation in half and would put some of it in bitcoin too. Other than that, I don't think there's anything going on today that's making me think it's time to bail on stocks and move to gold or something like that. I do think gold will trade at $5000-10,000 per ounce in my lifetime. But that's talking about a time horizon of at least 40-50 years, I hope.
Q. What about buying some physical gold ahead of financial reset? Most central banks are increasingly loading gold…. what format would you recommend? Small coins so you can use easier if ever needed?
A. Yes, small gold coins are probably the best form of gold for most people. Just make sure you store it somewhere very VERY safe.
Q. Cody, whats the play on CSCO? Add a tranche?
A. I'm just not in much of a buying mood right now and I'm comfortable with the small-ish position we have in (CSCO) here. If CSCO were to get slammed in a broader market sell-off, I might get interested in building the position up a bit more aggressively. Maybe closer to $40ish.
Q. Feet to Fire. Where are TSLA, FB, AMZN in 2025?
A. TSLA will probably be somewhere between $1500 and $3000. (FB) will probably be somewhere between $220 and $350. (AMZN) will probably be somewhere between $3000 and $7000. Big ranges on my answers, because who knows what the economy, broader stock markets and who knows what else will be doing on in five years.
Q. Cody, whats up with SPCE….its up nonstop….can it continue its upward trajectory without a flight launched? It looks like when it really launches its first trip into space, it might be late for newbies to buy into it.
A. Virgin Galactic has been a virtual rocket ship since we bought it under $10 just a few months ago. It's making me dizzy. There's nothing wrong with trimming some here and there as it's climbing and I'm going to lock in some profits on it today. Consider this a Trade Alert, I'm trimming about 5-10% more of my SPCE.
Q. If you had to sell one stock short today with best potential of 50%+ drop in the next year – what name(s)?
A. I can think of lots of smaller cap stocks that are likely to tank 50% from their current levels, courtesy of the ongoing Bubble-Blowing Bull Market Rally on Steroids (NYSE:TM) that's lifting a lot of crap. As for bigger cap stocks, maybe one of these names: (GM), (M), (CVNA), (SIRI), (VIPS).
Q. Thoughts on UBER – poised to finally reach IPO price, or fall back further from ere?
A. I don't think the IPO price is very relevant to the stock right now. In fact, I don't recall what the IPO price for (UBER) is off the top of my head because I didn't buy it til after it'd fallen after the IPO, as I recall. Anyway, if I didn't think that UBER could continue to go up from the levels we've scaled into it at, I'd sell it.
Q. What are your thoughts on SEDG in advance of earnings next week?
A. Recall that we originally bought (SEDG) at $14 per share here on TradingWithCody.com. I've owned it and haven't traded it very often except to take some profits. I think that will continue to be the best approach. SEDG is probably the best play on The Solar Revolution and I'm just planning on continuing to hold it for the long-term. It's a good company.
Q. Cody loved your Wednesday read! Happy Valentine's Day to your girls!! Thoughts on teledoc (TDOC)? and (ROKU) results?
A. Thanks for the kind words and boy did we have already have a cute Valentine's Day morning at my house before I left for work (see picture below — Amaris is absolutely enamored with her older sister Lyncoln, as you can see. They have matching outfits for today, though Amaris didn't have hers on yet when I left). I wrote this about TDOC a couple weeks ago in the chat: "TDOC isn't growing as quickly, just about 30% topline growth and the company is probably even further away from profitability than DDOG. TDOC is trading at 11x next year's revenue estimates. If the stocks were cut in half, I might get interested in each of them. Not at these levels, not right now." As for ROKU, I'd rather own DIS and NFLX.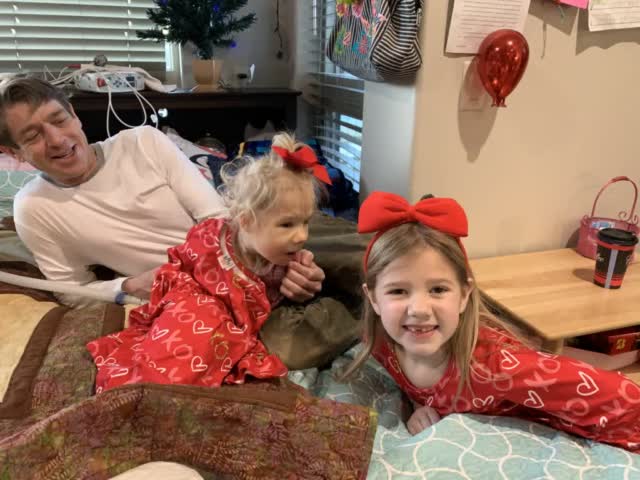 Q. I bought VZ because of the dividend and because it is "safe". It is now boring me. I know you love Disney. Disney is probably 4% of my portfolio. How comfortable would you be doubling down on selling all VZ and ultimately doubling my Disney position?
A. That's way too specific a question without me knowing much more about you and your portfolio and your life and your family and so on. I like DIS a lot more than VZ personally.
Q. Thoughts on the gaming revolution? And tencent — are they the best play since they control the Eastern hemisphere.
A. I'm always trying to figure out the best plays on the gaming revolution. It's probably SNE and MSFT, though, as the owners of the platforms are usually the best ways to play any sector (think (AAPL) and (GOOG) in phones, etc). Tencent is a terrific way to bet gaming in China, but I don't own it.
Q. Cody, feet to fire, any ranges for SPCE and CGC and GLD by 2025?
A. SPCE: $5 to $150. (GLD) $130 to $200.
That's a wrap, thanks all